Handsome 6yo 17h Dark Bay OTTB with Incredible Potential
$20,000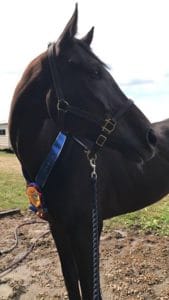 OT Bandini is a six year old 17h OTTB with upper level potential. He has been shown extensively in 2017 and has been placing consistently at beginner novice and novice with an amateur rider. Bandini is quiet and straightforward to ride. Although very simple, he does need a confident, educated rider as he is only off the track since March 2017. He is very level headed and focuses well on his work. He is a flashy mover and very competitive in the dressage. Bandini is schooling first and second level and starting his lead changes.
Bandini is super brave in both jumping phases. He is a natural scopey jumper and jumps in great form. He is schooling 3'3″ and has confidently jumped 3'6″ showing incredible scope to go higher. Stands for farrier, vet, clipping, ships well, etc. Priced for immediate sale at $20,000 as I don't have enough time for this sweet, loving guy with work and school. Located 20 minutes west of Cleveland Ohio.